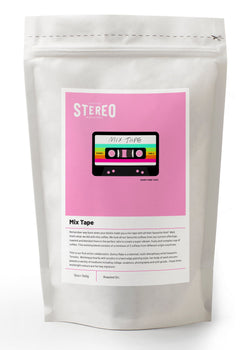 stereocoffeeroasters
Mix Tape
Remember way back when your bestie made you a mix tape with all their favourite hits? Well, that's what we did with this coffee. We took our favourite coffees from our current offerings, roasted and blended them in the perfect ratio to create a super vibrant, fruity and complex cup of coffee. This evolving blend consists of a minimum of 3 coffees from different origin countries.
Current Mix - PNG, Colombia El Tambo & Biftu Gudina Ethiopia
This is our first artist collaboration. Quincy Raby is a talented, multi-disciplinary artist based in Toronto. Working primarily with acrylics in a hard-edge painting style, her body of work encompasses a variety of mediums including collage, sculpture, photography and soft goods. Clean lines and bright colours are her key signature.
Check out Quincy's work here: https://www.quincyraby.com