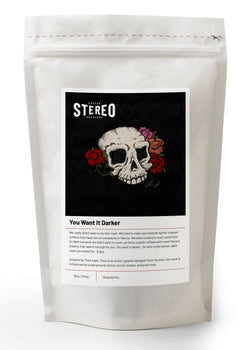 stereocoffeeroasters
You Want It Darker
We really didn't want to do this roast. We tried to steer you towards lighter roasted coffees that have lots of complexity in flavour. We even created a roast called Not So Dark because we didn't want to cover up these superb coffees with roast flavour. Clearly, that wasn't enough for you. You want it darker. So here is the darker, dark roast you asked for. Enjoy.
Current Coffee - Brazil Cerrado Mineiro Toriba (natural)
Artwork by Theo Kaps. Theo is an artist / graphic designer from Toronto. His work is influenced by underground comics, horror movies, and punk rock. 
Check out Theo's web site here: https://fickleghost.dunked.com