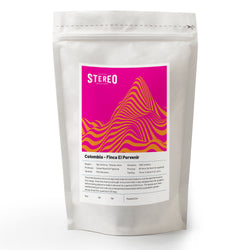 stereocoffeeroasters
Colombia - El Porvenir
| | | | |
| --- | --- | --- | --- |
| Region: | San Antonio, Timana, Huila | Altitude: | |
| Producer: | Cesar Mauricio Figueroa | Process: | 80 hour ferment & washed |
| Varietal: | | Notes: | Floral, tropical fruit, juicy |
Huila is by volume the biggest producer of specialty coffee in Colombia today. In the south, about 30 minutes from the city of Pitalito, is the municipality of Timaná, where César Mauricio Figueroa Parra has his farm.
Cesar and his wife bought their own neighbouring farm after finishing his studies to be an architect. Finca El Porvenir is in the vereda of San Antonio, and it sits at 1,600 m.a.s.l., with a total surface area of more than five hectares, four of which are planted with coffee.
Cesar begins his harvest in late April and is continuously collecting cherry up until November-early December, although over the last couple years of heavy and almost nonstop rain, his yield has suffered substantially—a reality across all of Colombia. He usually employs up to six pickers to help carry out the cherry collection.
This Pink Bourbon micro lot was hand selected and treated to a prolonged fermentation stage. Once the cherry was brought in from the field, it was weighed and de-pulped before being placed in tanks to ferment for a period of 80 hours. The beans are then washed and put out to dry on a marquesina (raised beds within a parabolic greenhouse dryer) for a period of 20 days.