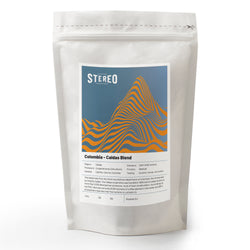 stereocoffeeroasters
Colombia - Caldas Blend
| | | | |
| --- | --- | --- | --- |
| Region: | Caldas | Altitude: | |
| Producer: | Cooperativa de Caficultores | Process: | Washed |
| Varietal: | Castillo, Caturra, Colombia | Notes: | Caramel, orange, chocolate  |
The Caldas cooperative was founded in 1960 and is today home to more than 3,600 allied partner producers, most of them smallholders. The coop operates in eleven municipalities throughout the department and counts with 15 points of sale and centers of atención al productor, where producers can drop off and sell their coffee, as well as access agricultural support and guidance from agronomists who work with the cooperative.
Caldas is located in an area known as the Eje Cafetero, or coffee-growers axis/triangle. Made up primarily of the three departments of Quindío, Risaralda and of course Caldas, this region is historically known as the center of coffee production in Colombia and used to be the biggest producer of coffee by volume, although today that title belongs to the department of Huila.
Caldas has a population of almost one million people, half of whom live in the capital city of Manizales. According to the FNC, there are currently 63,051 hectares of coffee planted in this state, and 95% of producers have less than five hectares to cultivate on. Home to approximately 13,000 specialty coffee growers, and around 41,000 small farms.