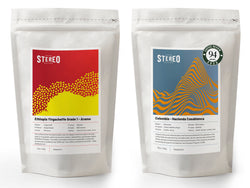 Stereo Coffee Roasters
Geoff's Choice - 3 Month Single Origin Subscription
Each month Geoff will choose his favourite two single origin coffees and we will ship 2 x 12oz bags direct to your door.   Whole Bean only for this subscription. 
Canada Wide Shipping is included in subscription. 
*If this is a gift please remember to use your friend's shipping address instead of your own! (unless you're buying this for yourself which we also think is a great idea - you totally deserve it).