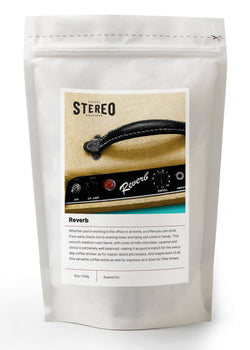 stereocoffeeroasters
Reverb Blend
Whether you're working in the office or at home, a coffee you can drink from early check-ins to evening loose-end tying can come in handy. This smooth medium roast blend, with notes of milk chocolate, caramel and citrus is extremely well balanced, making it as good a match for the everyday coffee drinker as for master-blend aficionados. And maybe best of all, this versatile coffee works as well for espresso as it does for filter brews. 

Current iteration:
80% Guatemala Ella Todo Santos (women produced)
20% Ethiopia YirgZ washed
This is our second collaboration with artist Quincy Raby. Quincy is a talented, multi-disciplinary artist based in Toronto. Working primarily with acrylics in a hard-edge painting style, her body of work encompasses a variety of mediums including collage, sculpture, photography and soft goods. Clean lines and bright colours are her key signature.
Check out Quincy's work here: https://www.quincyraby.com