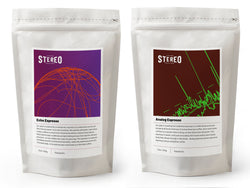 Stereo Coffee Roasters
Espresso - 3 Month Gift Subscription
Each month we will ship out two 12oz bags of espresso to your espresso loving buddy.  Choose from Echo Espresso or Analog Espresso, or choose one of each.  Whole Bean only for this subscription. 
Canada Wide Shipping is included in subscription. 
*Please remember to use your friend's shipping address instead of your own! (unless you're buying this for yourself which we also think is a great idea - you totally deserve it).